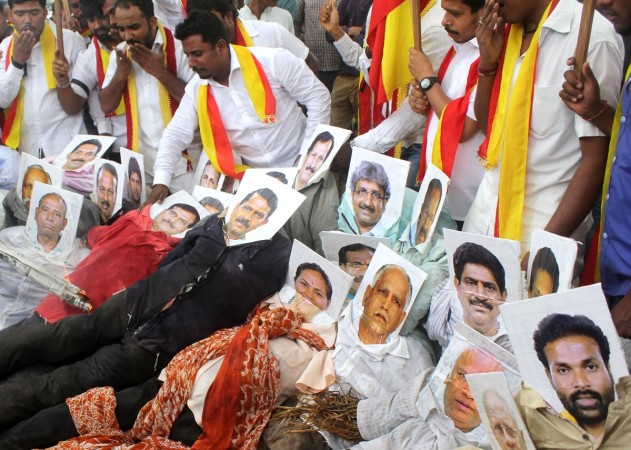 Showing solidarity with Mahadayi agitators, the Kannada movie sector has extended its support so that no movies will be shot in Karnataka that day, nor will there be any movie shows.
Today, farmers and pro-Kannada organisations are observing bandh in Karnataka which led to shutting down of various schools and colleges.The private schools, as well as the state government school, remain closed for today during the bandh.
A group of protesters tried to disrupt rail services by entering the Bengaluru's Sangolli Rayanna railway station but police stopped and detained them. This will help in augmenting the drinking water supply to Hubballi-Dharwad and districts of Belagavi and Gadag.
On 25 January, BJP president Amit Shah will be in Mysuru to participate in the "Parivarthana Yathre" of BJP leader and former chief minister BS Yeddyurappa.
Very few hotels, restaurants and eateries were opened in the city, and stray minor incidents of stone-throwing were also reported with the bandh organisers targeting shops that refused to down shutters. However, the move was opposed by then Goa Chief Minister Manohar Parrikar, who claimed that the proposal could be ecologically disastrous for the Western Ghats of the coastal state.
Agitators are holding protests in Attibelle, Bangalore Urban district Karnataka, over Mahadayi water dispute.
Meanwhile, the Mahadayi water-sharing dispute between Karnataka and Goa has remained a hard nut to crack for multiple governments; it has been a rallying point for all the political parties during elections.
The second "Karnataka bandh" that is planned by the outfits for February 4, is the same day when Prime Minister Narendra Modi is scheduled to address a rally in Bengaluru.
Speaking to reporters in Mysuru, BJP MP Pratap Simha called it a government sponsored bandh, alleging that the intention was to disrupt Shah's rally.
The BJP has alleged government's role in the selection of dates when Shah and Modi are expected to visit the poll bound state to take part in "Nava Karnataka Parivartana Yatre", organised by the state unit.
The Mahaydai Water Disputes Tribunal, headed by J.N. Panchal, on July 28, 2016 rejected the state's petition for releasing the river water, citing various grounds, including ecological damage the twin canal projects may cause.