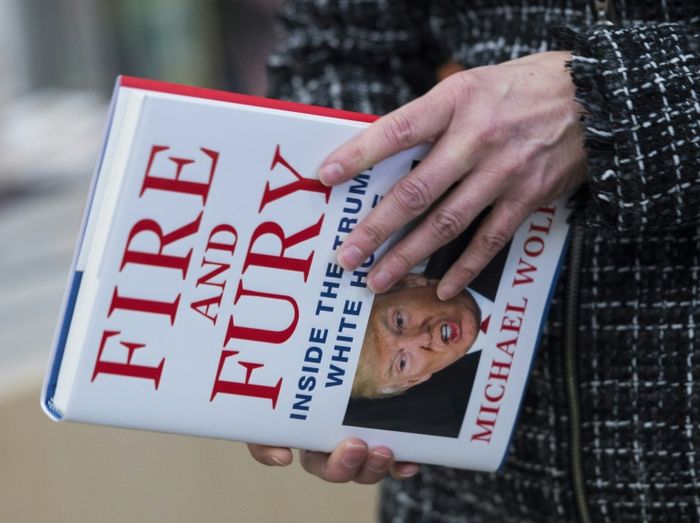 Miler said of the book: "The book is best understood as a work of poorly written fiction".
"Miller also lamented Steve Bannon for making "grotesque comments" in the book, ones he said are "so out of touch with reality" and vindictive".
Tapper's interview turned combative as Miller ripped "garbage author of a garbage book" - Michael Wolff's "Fire and Fury" - and as the CNN "State of the Union" host questioned the truth in book's details and the role of Steve Bannon in the White House.
Mr Wolff's book, Fire and Fury: Inside the Trump White House, paints an unflattering portrait of Mr Trump, claiming the President's staff - and even his family members - regard him as "like a child". The book quotes Bannon as saying a 2016 Trump Tower meeting between Trump campaign officials and a Russian lawyer purportedly offering damaging information about Hillary Clinton was "treasonous". The president later said on Twitter that Tapper "just got destroyed in his interview" with Miller.
Earlier this week, Dana Rohrabacher, the Republican Congressman from California who is a steadfast Trump supporter, spent most of his airtime on CNN scolding anchorwoman Ana Cabrera for the channel's coverage of Trump, while avoiding questions about the FBI's investigation into Russian meddling in the last United States presidential election.
About halfway through the interview, things really got heated as Miller continued to dodge Tapper's questions.
White House senior policy adviser Stephen Miller appears during a televised interview with CNN's Jake Tapper on January 7, 2018.
Corey Lewandowski, Mr. Trump's former campaign manager, said Mr. Bannon had clearly crossed a line. Trump publicly broke with Bannon last week after the remarks were publicized before the book's publication.
Miller said that point was true, calling the president a, 'A self-made billionaire who revolutionized reality TV and who has changed the course of our politics'. "Watch the hatred and unfairness of this CNN flunky!"
Tapper cut him off and said: "I think I've wasted enough of my viewers' time".
But Tapper responded: "The president has an approval rating in the 30s, I don't know what's magical that you're talking about".
Speaking on NBC's "Meet the Press", Wolff said he was given access to the White House in the early months of Trump's term, and that his "goal was to keep going until somebody said go away".
"You can be as condescending as you want, it's part of your MO...you have 24 hours of negative, anti-Trump, hysterical coverage on this network that led in recent weeks to some spectacularly embarrassing false reporting from your network", Miller said. And you're obsequious, you're being a factotum, in order to please him'.