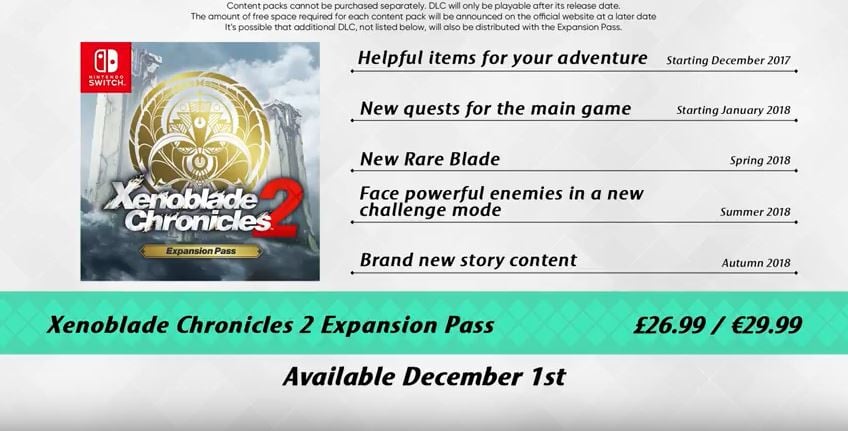 Now that the release date for Xenoblade Chronicles 2 is less than a month away, Nintendo had a Nintendo Direct stream today (November 7) discussing the game. It includes new items and quests coming in December and January, plus new gear, a new mode, and "a brand-new story and adventure" landing each season through Autumn 2018.
Nintendo plans to release a year's worth of new content, that will include new quests, weapons, a new challenge mode, and new story content.
The big news is that Xenoblade Chronicles 2 will be getting a full Expansion Pass (a first for the series).
The Xenoblade Chronicles 2 Nintendo Direct presentation has just concluded, and we got way more than we were hoping for.
The Direct discussed details of Blades, which are artificial lifeforms that bond with Drivers like Xenoblade Chronicles 2's main character, Rex. While adventuring, these abilities might increase the number of items that can be collected, open up new paths to explore or initiate other special effects.
Abilities will differ from Blade to Blade, so selecting different Blades during battles will add a strategy element to gameplay. If players manage to defeat certain Unique Beasts, a tombstone will be left behind to commemorate the creature and allow players to relive those battles for additional rewards. Aside from this, the game's Expansion Pass was announced, which is available for pre-purchase starting today for $29.99. No word on if they're exclusive to the pass itself, though they may be available as early as the game's launch. Look for Xenoblade Chronicles 2 to release on December 1. But not the expansion pass or the Pro Controller.