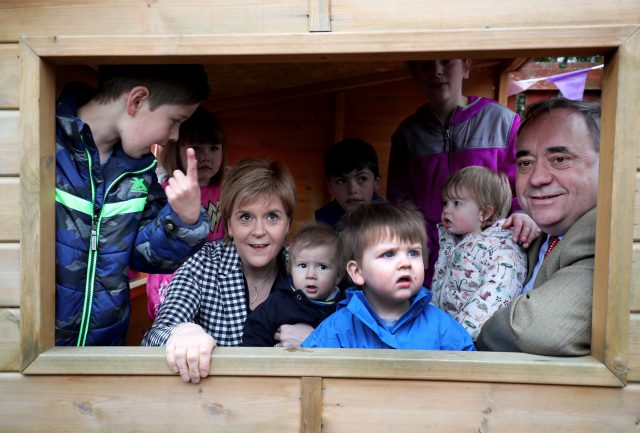 In a major blow for Scottish Labour, early results showed the SNP was on course to become the city's largest party for the first time in its history, ending almost 40 years of Labour dominance, but it remains unclear whether the SNP will win an outright majority.
For the first time ever, the Tories had a councillor elected in Paisley's Ferguslie Park - the most deprived part of Scotland - while the party also increased its numbers in Glasgow, where it previously had just one representative.
Labour's loss of control in Glasgow, where it has run the council since 1980, was not unexpected after the SNP took all the city's Westminster seats in 2015 and all of its Scottish Parliament constituency seats previous year, but it remains a heavy psychological blow for the party that has dominated post-war Scottish politics.
Early results from Thursday's local elections confirmed a pattern of Labour losses across Scotland, together with significant gains for the Conservatives and mixed fortunes for the SNP.
Counting in Scotland's local elections did not begin until Friday morning.
As a result, the Tories increased their number of councillors in Moray from three to eight, while the SNP dropped from 11 to 9.
On a visit to Dreams Daycare nursery in Insch, she said: "We're here at a nursery highlighting the SNP's policy to nearly double state-funded childcare provision, helping young people get the best start in life and helping working families".
The SNP becomes the largest party there, as in Edinburgh and Aberdeen where it also deposed Labour, but it lacks a commanding majority in all three.
Two years ago, the party won just 14 per cent of the vote north of the border, but the Scots' Tories have seen a resurgence under the leadership of Ms Davidson, whose personal profile as a working class, lesbian woman and former BBC journalist is seen as appealing to those who would not typically vote Conservative.
"We've won this election today, or certainly we look as if we're on course to winning the election", she said.
She said: "Today, voters can send the SNP a message that they do not want another divisive independence referendum".
First Minister Nicola Sturgeon hailed it as a "fantastic, historic result" and the "end of an era for Glasgow but the start of an exciting new era".
He said: "Congratulations to all of @SNP councillors elected in Moray, the largest group on @The MorayCouncil #Council17".
Labour needed 43 seats on the council to keep control.
She claimed the city council had "completely lost its way" under Labour.